Climbing walls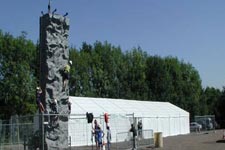 Climbing walls are a favourite scout camp activity and offers a challenge for any Scouts, Girl Guides or Cadets. You don't need to look up the nearest mountain or visit the alps when we can supply a climbing wall for you.
Our safety instructors will make sure you are securely harnessed in and then advise you of the best route to take to the top. If you slip then you are fastened to a safety harness which will stop you and hold you so you don't fall to the ground.
Our climbing walls take up a surprisingly small amount of space and can fit just about anywhere where the ground is flat. This scout camp activity can be arranged as either a bit of fun or as part of a larger competition. If you would like to talk to us about this or any of our scout camp activities please give us a call on 0114 270 0330 or click the live chat link on the left side of the page. Alternatively please visit our contact us page.