Gladiator joust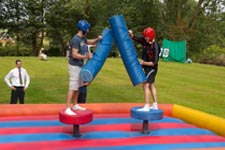 Gladiator Joust is a fun scout camp activity that will bring the competitiveness out of all of the Scouts, Girl guides and cadets taking part. Each participant in this fun activity will have to fight against one another to see who the victor will be.
In this scout camp activity the two opponents will use pugil sticks and have to try and knock their opponents off their podium onto the inflatable bed.  Everyone taking part must wear safety equipment and there will be an instructor on hand at all times.
This activity is enjoyed by just about everyone and is a great addition to any scout camp. To book or speak to us about this or any of our scout camp activities please give us a call on 0114 270 0330 or click the live chat link on the left side of this page.