Air Rifles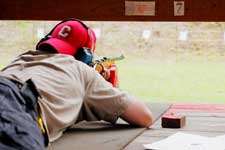 Air rifles are a great addition to a scout camp or Youth group. We have both Air rifles and air pistols for you to try your skills at. We do have a minimum 14 age limit for this activity and our trained instructors will supervise the activity at all times.
The trained instructors will give you a full detailed briefing on how to sue the gun safely and the correct method of shooting the weapon. Our Air rifles have telescopic sights to make aiming a little bit easier. We use a range of different targets for our air rifles and air pistols at scout camps and with youth groups. These targets include knockdown targets, spinning targets and paper targets.
If you are having a competition each person will have a few practice shots before the competition starts properly. You will have to decide whether to go for the easier to hit or harder but higher scoring targets.
If you would like to talk to us about booking this or any of our events please give us a call on 0114 270 0330 or click the live chat link on the left side of the page.