School Sports day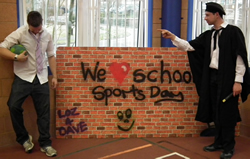 The School sports day bonanza is a great event which will bring out the competitive spirit of your scouts, girl guides or cadets with some fun competition.
This event is a great chance to compete in all your favourite school sports day games. We focus on the fun side of school sports day and while the games may be competitive you will all have loads of fun. If you've missed your chance to compete in the egg and spoon race or the wheelbarrow race this might be your chance.
Your group will be split into teams if they aren't already and will compete against other teams through a range of challenges. The event will start with a dance contest warm up to make sure you are all ready to go. We will play some background music while each event is going on with some old school favourites.
All of the school sports day games will be controlled by our compeer who will be dressed as a head master and each game is run by our safety instructors / School prefects.
School Sports day bonanza games
Your school sports games could include:-
Egg and Spoon Race
Three Legged Race
Giant Sack Race
Wheelbarrow Race
Welly Wanging
Backwards Long Jump
Relay Race
Obstacle Course
The School sports day is sure to be loved by your group of Scouts, Girl Guides or Cadets and it's sure to be an event filled with laughter and fun.  If you would like to talk to us or book this or any of our scout camp activities please give us a call on 0114 270 0330 or click the live chat link on the left side of this page.