Giant Sumo's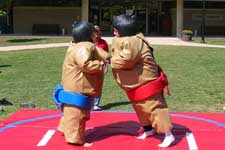 Giant Sumo wrestling is a fantastic fun scout camp activity which all of your Scouts, Girl Guides or Cadets are sure to love. This is an ideal fun activity and can also be used as part of a larger competition.
Each participant must get into their sumo suits and then belly bounce each other out of the fighting circle. The person who wins the best of three bouts is the winner. Each giant Sumo wrestler must wear a helmet and neck brace and only use their belly to push their opponent. If they use any other method the referee and safety instructor will be on hand to disqualify them from the bout.
If you would like to discuss this or any of our other Scout camp activities please give us a call on 0114 270 0330, fill in the form on our contact us page or click the live chat link on the left side of the page.