Bouncy castles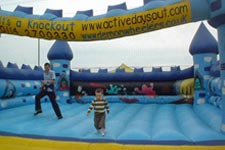 Bouncy castles are an all time favourite amongst children and younger scouts and guides are no different.
We have a range of bouncy castles from smaller indoor ones to larger outdoor bouncy castles suitable for a lot of scout camps and youth groups. Some of our Bouncy castles come with different themes from castles to inflatable assault courses.
If you would like to discuss this, our inflatable activities or any of our other Scout camp activities please give us a call on 0114 270 0330, fill in the form on our contact us page or click the live chat link on the left side of the page.