Micro Quads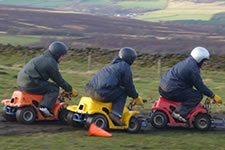 Micro quads are great fun and don't just think of them as smaller quad bikes because despite the name they are something completely different.
The driving position is awkward and you will look a little silly and despite everyone laughing at you, you'll all have great fun. Micro quads is one of the few motorised scout camp  activities which we offer head to head racing and they will really get the competitiveness flowing.
The aim of the activity is to get around the course as fast as possible and not to hit any of the obstacles or there may be a penalty. Micro quads are something different to our other motorised activities and as such are a fantastic fun addition to your scout camp or youth group event.
Call us now on 0114 270 0330 to book or more details.