Powerturns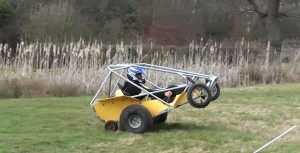 These Powerturn buggies are something else! Powerturns are very popular activities at scout camps and great fun for Scouts, Girl guides and cadets.
With high speed and instant turning along with the opportunity for two people to drive at the same time make the powerturns great fun for all. Boasting two seats and two engines the buggies allow one driver to take on the challenge with a passenger if they dare, or if you think you're up for it try some dual driving to score higher points!
The two engines each drive one side of the buggy, demanding the driver or drivers to master the skill of controlling both engines to make their way round the site specific course against the clock. A must for all adrenalin junkies!
If you would like to discuss this or any of our other Scout camp activities please give us a call on 0114 270 0330, fill in the form on our contact us page or click the live chat link on the left side of the page.