Blindfold Driving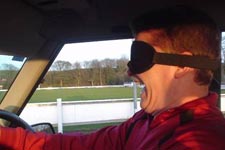 A great way of building relationships within your scout group or youth group whilst having a hilarious time! Blindfold 4×4 driving is all about skill and not speed.
The task is designed to test your faith in your fellow Scouts to make it safely around our track.
As a blindfolded driver you will be disorientated, as the navigator/s you will need to master the art of communication. Your final goal is to obtain points by not hitting any of the markers on the course.
If you would like to discuss this or any of our other Scout camp activities please give us a call on 0114 270 0330, fill in the form on our contact us page or click the live chat link on the left side of the page.