Egg flirt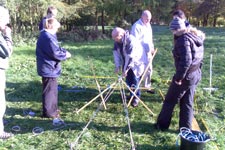 Egg flirt for scout camps is a game which can be literally smashing fun. Each team of scouts or from your youth group has to build some equipment to fire an egg within the allowed time.
Each team will have a set number of eggs which they must fire and see who can fire them the furthest. You will be provided some materials by your instructor to turn into your contraption. Your team will have to work together and think about the task to achieve the furthest distance and beat the other teams.
If you would like to book this or any of our team building events please give us a call on 0114 270 0330 or click the live chat link on the left side of this page.
.