Argocat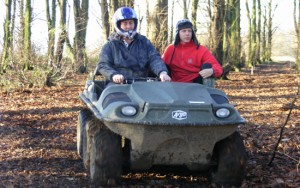 Argocats are nothing your Scouts, Guides or Cadets will have driven before. With three wheels on each side of the vehicle they are skid steer and are able to drive on land or in water.
Some of you may remember Argocats from the "banana Splits" years ago and they are just as much fun today as they were back then. You'll be given full instructions by our trained instructors. Once you have mastered the controls you will use these new found skills to navigate around the various humps, bumps, lumps and other obstacles on the course.
Make sure you hold on tight as you use the skid steer to go around the corners.
If you would like to discuss this, our Motorised activities or any of our other Scout camp activities please give us a call on 0114 270 0330, fill in the form on our contact us page or click the live chat link on the left side of the page.