Rodeo Bull & Surf Simulators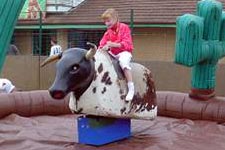 A classic Rodeo bull or a Surf simulator are never short of a queue of people who would like to see how long they can stay on for and Scouts, Girl Guides and Cadets are no different.
Rodeo bulls and surf simulators are ideal for scout camps and for youth groups because it is an activity everyone can go and have a go on throughout the day or it can have set times for groups to try their hand at clinging on. The speed and difficulty can be varied so it's safe for Children and adults alike to have a go.
If you would like to discuss this, our inflatable activities or any of our other Scout camp activities please give us a call on 0114 270 0330, fill in the form on our contact us page or click the live chat link on the left side of the page.