Bouncy boxing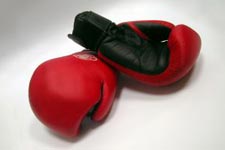 Bouncy boxing is a fun activity where your Scouts, Guides or Cadets have to box each other on an inflatable ring while wearing giant foam boxing gloves.
Bouncy boxing is a good fun activity for both those taking part and those spectating. Each participant will have a head guard on and have to try and knock their opponent over by hitting them with their gloves. The referee will be inside the ring to make sure everyone sticks to the rules and no-one gets hurt. This activity is great fun but not for those of the faint of heart.
If you would like to discuss this, our inflatable activities or any of our other Scout camp activities please give us a call on 0114 270 0330, fill in the form on our contact us page or click the live chat link on the left side of the page.