Quads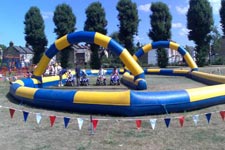 Quads are a great activity to include on any scout camp. We offer a range of engine sizes and different sized quads which are suitable for most age groups.
Quad bikes are four wheeled vehicles which will overcome most obstacles which are in their way. Quads will defeat most humps hills, bumps, slopes and water splashes. The quads we have range from 50cc for age 6 to 11 years,  90cc from 12 to 16 years and 125cc for 16 years and upwards.
From the age of 6, your groups can undertake the ultimate experience in quad biking. Whether it's learning the basics or perfecting skills already learnt your scouts will be given a full safety briefing and demonstration by the fully trained safety instructors.
For the older age group we offer an exhilarating quad experience in which a challenging course will prove testing whilst being fun and safe. The opportunity of an open poled course is available or an inflatable barrier can be used depending on requirements.
Over 16's take control of our 125cc quad bikes and navigate your way around the track, developing your skills and confidence levels to progress to take on challenges such as hills and inclines, water and woodland.
With our fully trained and skilled instructors on hand to deliver safety briefings and supervise all activities undertaken the quading experience is second to none, in which you will really see what an all terrain vehicle can achieve and why they are used and enjoyed so much!
For younger age groups the track will be surrounded by an inflatable barrier to heighten safety and to build confidence whilst our trained instructors will be supervising at all times.
Depending on facilities, time, and ability alternatives tracks and set ups can be provided allowing progression from confined tracks to trekking under the careful supervision of our instructors allowing your groups to really experience what quad biking is all about.

If you would like to book Quads for your Scout camp or youth group or talk to us about any of our motorised activities call us now on 0114 270 0330.