Spiders web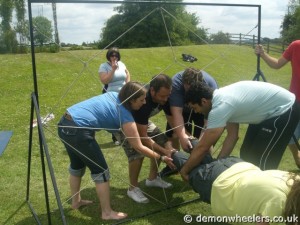 Spiders web is definitely a team building game where you need everyone in your team of scouts, girl guides or cadets to help out and work together.
Each person in your team needs to make their way through the spiders web but every person must take a different route. The person who is travelling through the maze may be blindfolded and it will be up to their team to help guide them through without incurring any penalty points.
Spider's web, sometimes called arachnophobia is a popular event with teams of scouts, girl guides or cadets and it is included in many of our team building days. Teams in this activity must use good motor control and good communication to get the best score.
If you would like to talk to us about Spider's web or any of our team building games for scouts, girl guides or cadets please call us on 0114 270 0330 or click the live chat link on the left side of this page.