Human Table Football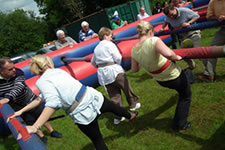 In Human table football, teamwork is the name of the game and you literally won't have any choice as you are strapped to another player in this life sized version of table football. This version of this favourite game is played on a large inflatable pitch.
Each member of your five a side team will be strapped to a pole with one other person, apart from the goalie who will stand alone. All players cannot move forwards and backwards and only from side to side. Each team needs to communicate well or risk being pulled all over.
Human Table Football is great fun and always a firm favourite at Scout camps, Girl guides and with youth groups. As well as being a fun activity it really improves communication and just like the real game there is no spinning allowed.
If you would like to book this or any other scout camp activity please give us a call on 0114 270 0330.