Inflatable Penalty Shootout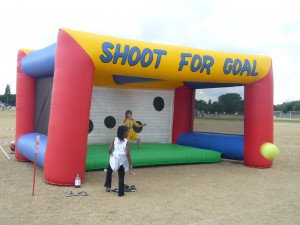 The versatility of uses for the Inflatable penalty shootouts at scout camps and for youth groups is one of the main reasons why is is very popular with Scouts, Cadets and Girl Guides.
This inflatable penalty shootout area has many uses ranging from a penalty shootout competition scoring past your friends who have an inflated goalie area to try and save your shot, to an accuracy contest using the sticky Velcro circles inside the goal. See if you can shoot like Rooney or if you would be better off in goal trying to do you're best Joe Hart impression.
If you would like to discuss this, our inflatable activities or any of our other Scout camp activities please give us a call on 0114 270 0330, fill in the form on our contact us page or click the live chat link on the left side of the page.