Pacer Karts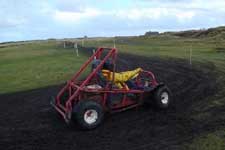 Pacer Karts are available for anyone over the age of 12 and are a fantastic option for scout camps with a large amount of teenagers. Whereas our Rage buggies are only available for age 16 and upwards Pacer karts are suitable from 12 years old.
They have 270cc 4 stroke engines which give them enough speed to power around the course and slide through the corners of the track. These karts are very low to the ground so you will definitely feel any of the course's lumps and bumps. With only rear suspension and none on the front it is fairly common on really bumpy tracks for the front end to bounce up and down.
If you would like to discuss this, our Motorised activities or any of our other Scout camp activities please give us a call on 0114 270 0330, fill in the form on our contact us page or click the live chat link on the left side of the page.