Hovercrafts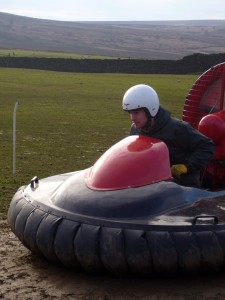 Hovercrafts are unlike anything you will have driven before and which makes them a fantastic addition to any scout or girl guide camp and very popular with Cadets and youth groups.
Hovercrafts offer an experience never to be forgotten. A very interesting and adrenaline fuelled activity for your groups to experience.
After a demonstration and full safety brief the opportunity to learn to master the control of these large machines will be in your hands. You must use a lot of leaning to slide around bends and race around our interesting course with tight bends and chicanes*. The delayed reactions keep you on your toes and will prove one of the highlights for many of your Scouts and Guides alike.
If you would like to discuss this or any of our other Scout camp activities please give us a call on 0114 270 0330, fill in the form on our contact us page or click the live chat link on the left side of the page.