Laser Clay Pigeon Shooting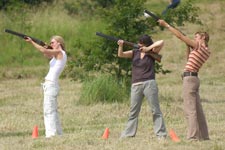 Laser clay pigeon shooting is great for scout camps and youth groups as it allows more ages and abilities to take part than normal Clay Pigeon Shooting.
Laser Clay Pigeon Shooting is an enjoyable activity which works well as a test of skill, accuracy and also as a team building game for Scouts and youth groups. Laser Clay Pigeon Shooting offers all of the enjoyment of real clay pigeon shooting without the noise and kick back of the gun.
This is one of the most popular shooting activities we provide especially with the Scouting organisation. Laser clays offer a fantastic introduction to shooting, involving up to 5 people at a time.
Real shotguns converted to fire laser beams rather than live shot allow the fun and experience to be retained whilst removing the recoil and loud noise! Ideal for all ages but 10yrs and over is ideal in terms of games and operating the guns.
With automatic traps firing reflective clays into the shooting arena the clays experience proves fun and enjoyable over and over again! With the electronic score board collecting and calculating individual scores and a multitude of different disciplines to be played including laser pairs, flush, speed and skeet games plenty of fun will be had!
Our scoreboard will register which participants from the scouts or youth group has hit the target and update the totals accordingly. We can run four different games including most accurate to quickest shot.
All of the guns are fully deactivated so cannot cause anyone any harm and this is a great fun activity for all ages. We do usually have a minimum age or 10 years to be able to hold the gun properly. If you would like to talk to us about this or any of our activities please give us a call on 0114 270 0330 or click the live chat link on the left side of the page.