Crazy golf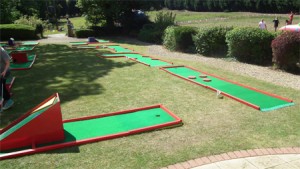 Crazy golf is great fun for Scouts, Guides and Cadets alike. Offering some fun competition for all of those taking part and can be set up either indoors or outside.
Out crazy golf courses are built to be potable and we can take them pretty much anywhere. They make a great fun addition for any youth group or scout camp. Crazy golf is always fun and we always get great feedback from the Scouts, guides and cadets who take part.
If you would like to discuss this or any of our other Scout camp activities please give us a call on 0114 270 0330, fill in the form on our contact us page or click the live chat link on the left side of the page.