Isle of Wight Revolution 2013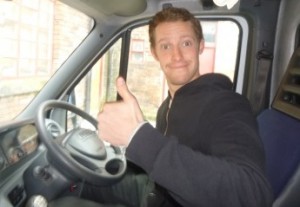 9am Thursday morning and me (Alex) and Danny (pictured) are leaving a snowy Sheffield and heading to the one of England's' finest treasures, The Isle of Wight.  As you can imagine after 8 years of running scout camp activities and other events I have been to most parts of the UK however this was to be my first trip to the Isle of Wight. There was an air of excitement in the van as it was also Danny's first trip to the island.
That excitement was still there as we pulled up at Northwood County Showground. Tents had already begun to be pitched and the lights for the disco where be installed in the marquee. A quick walk round and we soon found Ian who was my contact for the Isle of Wight Revolution.  This is a camp for Explorers and Network which meant the age range was much older allowing us to offer them Rage Buggies along with the micro quads. To ensure we were set up on time the next morning we decided to set up as much as we could there and then.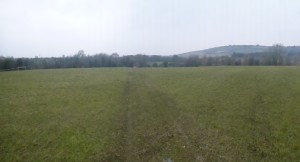 We drove the 15 minutes to Garlic farm where we transformed a plain field into a race track with hair pin bends and long straights to ensure the groups experienced the true power of the Rage.
We woke up on Friday to a lovely hot day. Ok it wasn't hot but it was only 7am so it could still warm up through the day. It never did, so I was glad I was wearing my long johns. Throughout the day myself and Danny had four groups with approx 30 people  per group to get through.

Explorers and Network where battling out on head to head races on the micro quads. These petrol powered machines are unlike anything you would have driven before. With a fibreglass body the only weight is that of the engine and the rider. Fitted with slick tyres these machines where built to drift. We only had one collision over the weekend and that was down to an awful bit of overtaking. No harm done and they were soon zooming back around the course.  8 miles away Danny was fastening drivers into the Rage.
"Awesome, fantastic, best thing ever" This was all that was being said when they were being unfastened from the buggies. Whilst one person was driving around the course, the other buggy was in the pit lane with the next driver being securely fastened and receiving a second briefing to ensure that they knew where the controls where. Running the vehicles in this way ensured that everyone had a good few laps on the track and more importantly it was done safely.
Two days and two chippie dinners later and it was all over.  The question now is, "what will we do next year? This post was written By Alex Florensa. You can follow Alex on Twitter
If you would like to talk to us about what activities we can supply for your scout camp please give us a call on 0114 270 0330 or fill in our contact us form and someone will get back to you shortly. you can also click the live chat link on the left side of the page to talk to us directly through this website.