Defuse the Bomb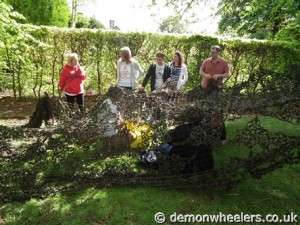 Do you think you can defuse a bomb before it goes bang? Well this could be your chance to prove it! Your team will work together to decipher a series of problems that will in turn reveal the code to defuse the bomb.
One member of the team is elected to relay the problems via mobile radios to the rest of the group in their self-built bomb shelter. The only problem is you have to do all of this before the time runs out!
This event encourages strong team communication under pressure. It also draws on leadership qualities and trust. No Scouts, Girl Guides or Cadets will be exploded during the running of this event!
Defuse the Bomb will really get your scouts or youth group thinking and communicating with each other to compete the tasks. If you would like to talk to us about this or any of our team building events please give us a call on 0114 270 0330, or click the live chat link on the left side of this page.