Archery & Crossbows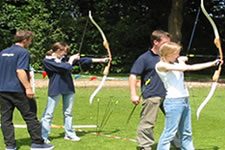 Archery and Crossbows are two of our most popular shooting activities at scout camps. And offer a different type of shooting activity to some of the others we offer. We generally offer these activities as a pair and although they use different techniques they are both really enjoyable.
Archery
We at Demon Wheelers offer a fully transportable archery range where up to 8 archers can test their skills at a time. The fully trained and skilled instructors will be on hand to provide full briefings and enforce safety measures are in place and adhered to.
With a wide range of competition bows to suit all ages and abilities and a number of games and challenges aimed to develop the beginners hand eye co-ordination and confidence and challenge the more advance archer within the group. Try your hand at archery poker, pop that balloon or the classic highest score games.
We provide full safety equipment such as arm guards as well as all targets and added extras for special games.
Crossbows
With the heightened accuracy of the crossbow this activity proves very popular. With the firing tension already loaded the crossbow allows a more precise shot than archery. The easiest way to describe the activity is a cross between archery and rifle shooting.
After full operation briefing and safety talks, participants can undertake loading the bow themselves and aiming up for the best shot possible. Our range is fully transportable and offers a wide array of games and competitions for all levels of ability to take part in and enjoy this precision based activity.
Although we don't have a definite age limit we usually stick to Age 10 and upwards as the Archers need to be able to draw the bow string back. If you would like to book Archery & crossbows or talk to us about any of our activities please give us a call on 0114 270 0330.