Team Building
Team building games and activities for scout camps are very popular and team teamwork and communication skills to scout camps and youth groups of all ages.
Team building events at scout camps and for youth groups can be inspiring and informative events as well as being fun and conveying a message to those taking part.  Team building activities can be a positive way to get a good response from all those taking part whether they are a Scout, Guide, Beaver, Brownie, Cub, Explorer, Air Cadet, Seas Cadet, Army Cadet, school group or any other youth group member.
Team building events can teach a number of different skills which are useful in a ,lot of situations from communicating both within your team and with other teams, Leadership and organisation. Team building events can take a wide range of different forms and can be moulded to fit just about any situation.
We have been providing team building events for nearly 20 years and we have created a range of events which incorporate everything from inflatable activities to motorised events. We have our very popular Crystal collection team building game which is based on the very popular 90's game show the Crystal maze.
We have more traditional team building games too like chariot building and defuse the bomb.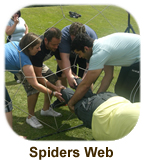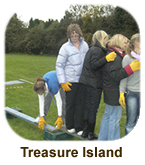 If you would like to talk to us about any of the team building activities we can offer please call us now on 0114 270 0330 and talk to us about what we can offer your scout camp or youth group today. If you are looking for more information on our team building activities please take a look at our main Demon Wheelers website.