Bungee run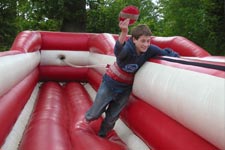 Bungee run is a test of strength and speed which is great fun for scout camps and youth groups. This is a popular favourite with scouts, girl guides and cadets alike.
This activity consists of two inflatable lanes and the aim is to place your marker as far along the lane as possible. Sounds simple, right? Well to make things a bit more difficult you will have a bungee cord attached to your back pulling you backwards.
When each competitor is signalled, they run down the lane to place their marker before they are pulled backwards. The winner is whoever can place it the furthest. A great fun activity for adults and children alike.
If you would like to discuss this or any of our other Scout camp activities please give us a call on 0114 270 0330, fill in the form on our contact us page or click the live chat link on the left side of the page.